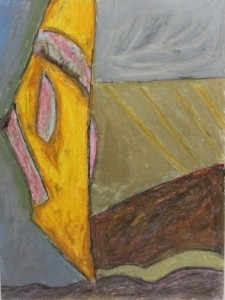 Untitled – Abstract Composition by William Lumpkins
"Art should concern itself, not with imitation, but with creation." – Emil Bisttram
Emil Bisttram was considered modern compared to many other Taos artists. Toward the end of the 1930s, he began to believe that spirituality could be expressed forcefully in abstract terms. His concept of the transcendent moment where idea is unadulterated by any conscious concern beyond the process of creation itself.
Emil Bisttram believed that the supreme experience for the artist came at the moment of transcendence. In a work of art, transcendence occurs at the time of original creation, the first expression about a particular subject when the artist transfers active free thought to canvas or paper or other medium. Inspired by neither the marketplace nor outside concerns, the transcendental experience rises from the soul as pure art and like music, speaks in an esoteric language more easily felt than explained. If the creation of this moment were no more than esoteric metaphor, it would achieve little. The transcendental comes from or passes through or is based upon the physical world, and thus can help make sense of our real-life experience.
He formalized this belief when he and Raymond Jonson co-founded the Transcendental Painting Group in the summer of 1938, the first group of abstractionists to lay artistic claim to New Mexico. The group also included Lauren Harris, a respected Canadian artist, and several younger artists including Bisttram students Robert Gribbrock, Horace Towner Pierce and Florence Miller Pierce. Ed Garman, William Lumpkins, Agnes Pelton, Dane Rudhyar, and Stuart Walker completed the roster.
Acknowledging European Modernism as its source, and borrowing heavily from visual sources from Cubists to Vasily Kandinsky, the Transcendental Painters Group got off to a good start. They showed at the Golden Gate International Exposition in San Francisco in 1939 and at the Solomon R. Guggenheim Museum and the Museum of Modern Art in New York during 1940. The same year, the canvases were sent to the Paris World Exposition. However, only one painting, by Lumpkins, arrived. It too was ultimately lost to the German invasion of France. The stresses of the war scattered the group's members and it faded away by the end of 1941.
Drawing from Asian philosophy and hybrid disciplines such as theosophy, the Transcendental Painting Group anticipated the surge of late modernism, movements like Abstract expressionism and Dynaton that would emerge less than ten years later.
In explaining his abstractions Bisttram constantly cajoled his viewers to "use your imagination" and "see what you can make of it."
Sources: "Modernists in Taos: From Dasburg To Martin" by David L. Witt; "Lumpkins: Pioneer Abstract Expressionist" by Walt Wiggins; and "The Transcendental Art of Emil Bisttram" by Walt Wiggins
Andrew Wolf, LLC
19th & 20th Century Fine Art, Art Pottery, Sculpture & Books
For more Art Collecting Tips and Resources, be sure to visit our website and follow us on Facebook and Twitter.