The roots of modern sculpture lie in the early days of the 20th century, when European artists fell under the influence of primitive African art. At the same time artists were beginning to realize the expressive power of abstraction. Constantin Brancusi was a pioneer of the new sculptural forms.
Constantin Brancusi – Romanian/French
(1876-1957)
"When you see a fish," Brancusi once commented, "you do not think of its scales, do you? You think of its speeds, its floating, flashing body seen through water. Well, I've tried to express just that. If I made fins and eyes and scales, I would arrest its movement and hold you by a pattern or a shape of reality. I want just the flash of its spirit." ~ Constantin Brancusi
Brancusi captured that "flash of spirit" in works of extraordinary beauty and intense simplicity, which have exerted a powerful influence on the art of this century. Though enjoying the pose of a canny peasant, he was, in fact, a sophisticated artist with years of academic training. He distilled a multitude of sources into his highly complex, including the folk art and architecture of his native Romania, Greek art, African art, Oriental art, Cubism, and Platonic philosophy.
His work shows tireless refinement and search for purity. Constant reworking of selected themes – children, human heads, birds, modular columns. Interested in abstract ideals such as the purity of primordial forms, but was never an abstract artist, a reference to a recognizable nature is always present.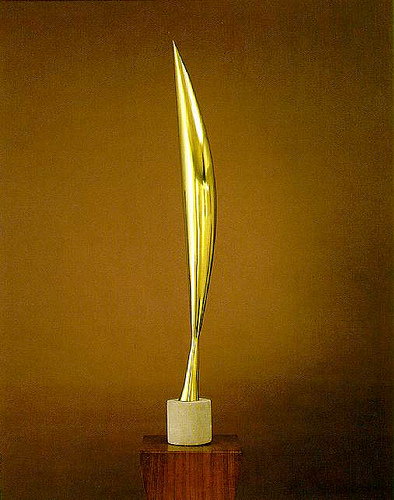 Bird in Space, 1923
Medium bronze
Height 56 ¾ in.
Location Paris: Musee National d'Art Moderne
Nothing symmetrical or geometrical means this graceful turning bronze captures an innate sense of flight like motion. Endless pleasure can be derived from the contemplation of pure line, simplicity of form, light reflecting off surfaces, materials unadorned an unadulterated. The light beautifully catches the yellow bronze as the sculpture starts to widen out and commence its gentle turn. The stone base is a wonderful contrast in texture and color to the lightness of the metal.
A wonderful simplification of form and deeply sacred approach to his work made Brancusi highly influential in the development not only of 20th-century sculpture but of abstract art generally. Often seen as the pinnacle of Brancusi's work, this gleaming, highly polished bronze stands five feet tall, simply but gracefully capturing the gentle elegance of a bird in flight.
October 26, 2010
Andrew Wolf, LLC
19th & 20th Century Fine Art, Art Pottery, Sculpture & Books
For more Art Collecting Tips and Resources, be sure to visit our website and follow us on Facebook and Twitter.
Next smART Collecting Topic: Do Your Art Buying Homework